Charter and Coach Bus Rental for School Field Trips
School trips provide an exciting getaway for students of all ages, whether it's a field trip to a museum or perhaps even a trip to an amusement park. When it comes to transporting children, it may be difficult to reserve a bus depending on the school's scheduled activities. What's more, many schools and parents prefer to charter a motorcoach or bus for better comfort – especially for very long trips. Midwest Motorcoach provides a wide variety of school trip bus rental services to suit all your school trip needs.
Quality Transportation Services for a Variety of School Trips
Many students ride the bus to and from school each day, but field trips and school outings are a treat, and in many cases, students look forward to them for weeks or even months in advance. Midwest Motorcoach can provide you with reliable transportation and school bus rental services for a wide variety of trips, including daytime trips to the zoo, a fun outing to see a movie, or even all the way across the state for an outdoor excursion and camping trip that will last several days.
The Benefits of Chartering a School Bus or Coach
Though the big yellow school bus is perfect for helping children get to school (and get home at the end of the day), for larger school districts and those with limited buses, it can be difficult to use a bus whenever one is needed – especially for longer trips. In some cases, a traditional bus can be less-than-comfortable for long-distance school trips. Benefits associated with chartering a bus or motor coach include:
Better safety. If you will be traveling long distances, a chartered bus or motor coach may offer more safety features than a traditional school bus.  What's more, when you choose to charter, you also hire an experienced driver who has the necessary credentials and skills to ensure your group's safety.
Climate control. Though most of today's school buses are properly heated, the older buses in many school districts lack air conditioning. This can make a bus hot, stuffy, and uncomfortable during long trips. Midwest Motor Coach offers a wide variety of chartered buses and coaches that feature outstanding climate control to make your trip perfect.
Onboard entertainment. Many of our buses and motor coaches come with onboard Wi-Fi access so that you can connect to the internet. This can provide valuable entertainment to students to help keep them occupied for the long haul.
Onboard restrooms and storage. Traveling with kids can be tough, especially when it comes to taking breaks to use the restroom and finding a place to put all the stuff they bring with them. Midwest Motor Coach provides buses with ample storage and on-board restrooms to help you get to your destination on time – and with fewer stops along the way.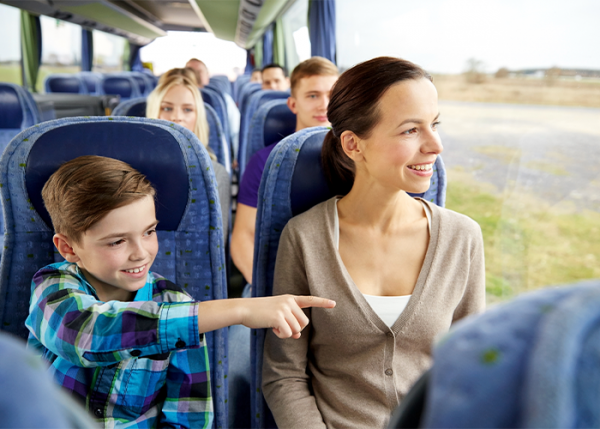 Charter Bus Rentals for School Field Trips & Outings
No matter what sort of event or trip you are taking with your students, Midwest Motor Coach can customize a travel plan that best suits your needs. We offer numerous vehicles, including mini coaches and full-size buses, and if you need more than one, we can help you with that as well. We can also plan your package based on the length of your trip, whether you are traveling less than an hour from home for the day or you'll be traveling across the state for several days. Let us help you with your next school field trip that requires charter bus rental services.
To learn more about the various types of buses and coaches we provide, or to book a trip in advance and reserve your vehicles and drivers, be sure to contact us today. We can provide you with an accurate quote for handling all your transportation needs while you focus on what really matters – having fun with the children.